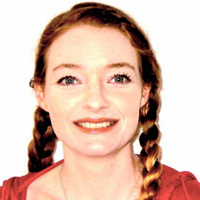 Meet Riddhi
Riddhi is a fully accredited Satyananda Yoga Teacher, accredited Bones for Life teacher and Bones for Life teacher trainer.
She has been practicing yoga for over a couple of decades and before that studied martial arts and Zen meditation.
Over the years Riddhi began applying the techniques learned through the study of Yoga to maintain balance and quality of life while juggling her work life in the stressful corporate arena with her own personal pursuits.
She has spent a number of years learning to the Bones For Life program and having regular Feldenkrais treatments to help aid in her recovery from injuries sustained in a car accident (high impact head-on collision).
The program had such a profound effect on her that she is now teaching it.
"The program personally helped me regain my balance, reduce pain, improve movement in my spine and neck, relieve headaches, improve memory and overall body coordination and sense of self and well-being."
Riddhi has attended workshops by Ruthy Alon and participated in the teacher training program and mentorship under Jenny Groves Bones for Life Australia).
Riddhi is a writer, produces and presents a radio show called The Bohemian Beat on Bay FM in Byron Bay and the National Community Radio Network, she does private yoga sessions and also consults in technology development and cyber security.